XenWallet - Online Payment Gateway Wallet Script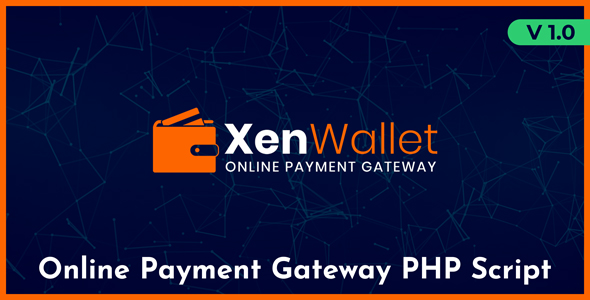 Are you looking for Complete, API Supported, Automated, Secured, Responsive, Unique & Inovative Payment Gateway Wallet Script? Then you are on the right Place, XenWallet is here to fullfill all your requirements. What you Need to run a comlete Wallet or Banking Website, All we have within Most affordable price. Our Wallet script which meets all your Payments Gateway business needs. All-in-one Solution For Start your own Wallet Business ! Our scripts are developed by our in-house Developers. We always produce secure, reliable, efficient and scalable script. We are doing continuous improvements to make it more stable in long run. We are using the latest and advanced technology Where Security is our Primary concern.
.


User Features:

Fully Responsive, User Friendly & Dynamic.

Enough Secured to Prevent Hacking Attempt.

SEO Friendly Archetecture.

Multiple Language Support (admin input).

API Ready For Ecommerce and website integration.

Multi Currency Supported.

Informative Transaction Logs.

Transfer to other User Easily.

Currency Exchange Facility.

Easy to withdraw via Bank.

Login Protection via 2 Factor Authentication

Login Logs to Ensure more security.

Support Ticket System Available.

And More….
Admin Features:

Secure Admin Panel

Currency Management

Staff Management

Complete User Management
(6 Feature)

Send Email to All User

Complete Withdraw Management
(5 Feature)

Complete Deposit Management
(6 Feature)

Manage Subscriber and Send Email

Complete Report
(6 Report)

Dynamic Support Management

Complete Frontend Setting
(16+ Sections)

General Settings of System

Fees and Charge Management

Dynamic Language Management

Email Setting Management
(04 Type)

SMS Management
(Get API)

And More…
Script Comes With:

Cross Browser Optimized Responsive Template.

Excellent support with a fast response rate.

Fix any bugs or broken content.

Help get you setup and installed!

Secure Database that uses prepared statements so no SQL Injection!

Protects against CSRF attacks!

HTML Filter to protect against XSS attacks!

Built using the latest Strong LARAVEL Framework.

Passwords are encrypted By bcrypt encryption.

We Offer FREE Installation Service for Cpanel Based Hosting Only.

No Refund If Item has been Downloaded.
Demo Access:
Frontend:
http://blast.thesoftking.com/lab/xenwallet/
Admin Access:
http://blast.thesoftking.com/lab/xenwallet/admin
Admin Login: Username: admin || Password: admin
Support Facility:
Please send us your product presale query, after sales developer support request, customization project and any other queries to our dedicated support:
[email protected]
Release Log:
V1.1 – 17 February 20
 - SMTP Mail updated
 - Rest API removed
 - HTML decoding issue solve
 - Twak.to updated
 - Ready content

25 Sales
First release

30th January 2020

Last update

17th February 2021

Compatible Browsers

IE6,IE7,IE8,IE9,IE10,IE11,Firefox,Safari,Opera,Chrome,Edge,

Software Version

PHP 7.x,MySQL 5.x,

Demo URL

http://blast.thesoftking.com/lab/xenwallet/

High Resolution

Yes

Software Framework

Laravel,

Files Included

JavaScript JS,HTML,CSS,PHP,SQL,

Tags