TrueWallet - Online Payment Gateway PHP Script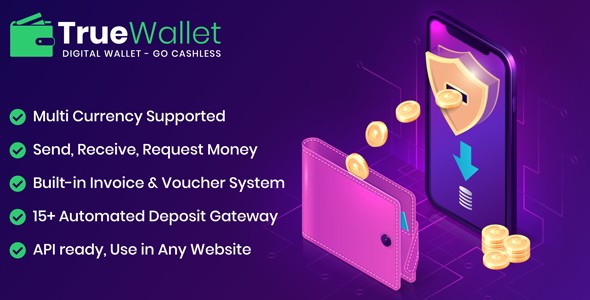 TrueWallet is an innovative online payment gateway system made with latest PHP Laravel & mySQL. Are you interested to Start your own website like Paypal, Skrill, 2CO or others? If yes then your are on the right place. TrueWallet comes with all common features needs to run a Payment gateway or Wallet. its Built to be beautiful, fast and powerful. Its support 18+ Global Automated payment Gateway (100+ Currency Support) & all are automated gere. its comes with a one-click installer that's help to install our system within 5 minutes without any technical knowledge. We also offer FREE installation facility. so, if you are a non-technical person then don't worry, we are here to assist you.
Demo Access:
Frontend:
http://blast.thesoftking.com/premium/truewallet
UserLogin:
Just Signup yourself and see the User panel
Admin Access:
http://blast.thesoftking.com/premium/truewallet/admin
Admin Login: Username: admin || Password: admin
---
---
User Features:

Fully Responsive & Completly Dynamic.

Over Secured / Hack Protected.

Completly SEO Friendly.

Easy Contact Facility & Social Media Enable.

Language Manager / Support Multiple Language.

One-click App Store Connectivity.

Privacy Policy & TOS.

Complete API Enable.

Easy Signup / Signin.

Support Multi-Currency.

Complete Transaction Logs.

Fraud Protected.

Easy to Transfer.

Request Money Feature.

Currency Exchange Facility.

Invoice / Money Request Management.

Online Click Invoice Create & payment Facility.

Voucher Management.

Voucher Create & Redeem with Logs.

Accept 100+ Currency.

Easy to withdraw via Bank.

Login Protection & Login Logs.

Support 2FA.

Support Desk Available.

LiveChat Available.

Personal API's Available.

Profile Management.

Support Master / Visa / Amex & Discover.

And More....
Admin Features:
Secure Admin Dashboard
Manage Currency
Manage Staff's
User Management
All Users
Active Users
Banned Users
Email Unverified
SMS Unverified
Login History
Send Email
Withdraw Management
Withdraw Methods
Pending Withdrawals
Approved Withdrawals
Rejected Withdrawals
All Withdrawals
Deposit Management
Automatic Gateways
Manual Methods
Pending Deposits
Approved Deposits
Rejected Deposits
All Deposits
Subscriber Management
Plugin & Extension Management
Report Control
Transaction Log
Money Transfer Log
Exchange Log
Request Money Log
Voucher Log
Invoice Log
Support Desk Management
All Ticket
Open Ticket
Pending Ticket
Closed Ticket
Ticket Type
Support Desk Management
All Ticket
Open Ticket
Pending Ticket
Closed Ticket
Ticket Type
Frontend Modules
Banner Content
Our Services
Process
Developer Section
How It Work
Testimonial
Call To Action
Announcement
FAQ
Manage Menu
Contact Us
Manage About
Our Team
Company Policy
Social Icons
SEO Manager
Overall Settings
Basic Setup
Transaction Fees
Logo & Icons
Language Manager
Email Management
Global Template
Email Templates
Email Configure
SMS Management
Global Template
SMS Templates
Script Comes With:

Excellent support with a fast response rate.

Fix any bugs or broken content.

Help get you setup and installed!

Secure Database that uses prepared statements so no SQL Injection!

Protects against CSRF attacks!

HTML Filter to protect against XSS attacks!

Built using the latest Strong LARAVEL Framework.

Passwords are encrypted By bcrypt encryption.

We Offer FREE Installation Service.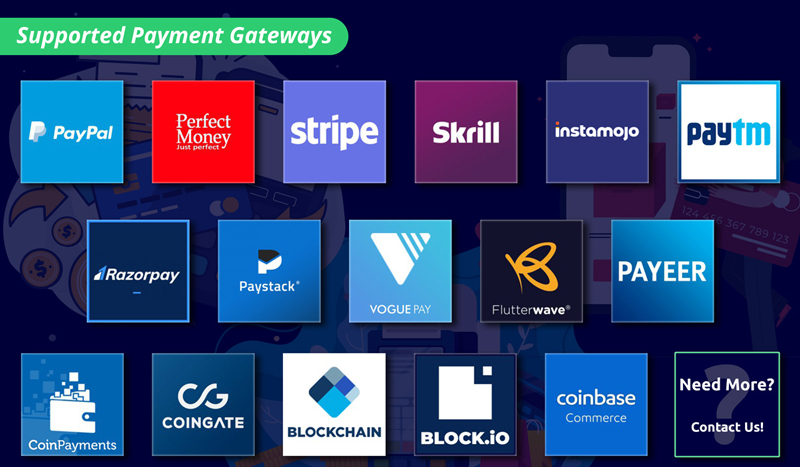 Support Facility:
Please send us your product presale query, after sales developer support request, customization project and any other queries to our dedicated support:
[email protected]
Release Log:
V1.1 – 17 February 20
 - SMTP Mail issue solve
 - Html encoding issue solve
 - Twak.to updated
 - Ready content

One domain use only. A regular license allows an item to be used in one project use by you or on behalf of a client.

Can be used in multiple domain . An extended license allows an item to be used in multiple project use by you or on behalf of a client.The item cannot be offered for resale and distribution is not permitted.

We will provide you full copyright and will takedown the item from our market. An exclusive license allows an item to be used in anywhere and as you want. The item can be offered for resale, resale in any marketplace and distribution is permitted.
Free technical support
Future product updates
Quality checked by THESOFTKING
Lowest price guarantee
3 months support included
What does support include?
55 Sales
First release

10th November 2019

Last update

17th February 2021

Demo URL

http://blast.thesoftking.com/premium/truewallet/

Compatible Browsers

IE10,IE11,Firefox,Safari,Opera,Chrome,Edge

Files Included

JavaScript JS,HTML,CSS,PHP,SQL, Laravel

Software Version

PHP 7.x,MySQL 5.x,

Software Framework

Laravel

Tags