Microlancer - Micro Freelancing Marketplace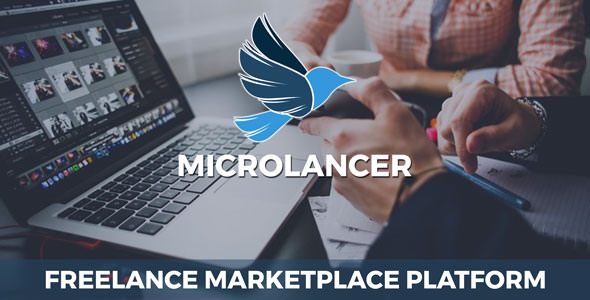 Microlancer is a Freelancing Marketplace like fiverr or seoclerk. its developed with PHP Laravel which is more secure and updated then others. Microlancer has Buyer & Seller both section, Has Referal income and social share facility. We include almost all features need to run an Freelancing Marketplace Website. Microlancer Accept payment from 7 online payment method included paypal, bitcoin and perfect money. Its Responsive, Full Prrof Dynamic, Cross Browser Optimized & SEO Friendly Platform.




User Facility:
Visitor Section
All Service List.
Check Service Details.
Service Provider Profile.
Easy to Social Share.
Easy to Contact.
Search Services.
Category Browse Facility.
Featured Gigs.
Seller Section
Create Unlimited Services.
Manage Services.
Manage Sales.
Earning History.
Delivery Conversation.
Buyers Rating Facility.
Comments & Rating.
Social Share Enable.
Livechat with buyer.
Referal Facility.
Profile Management.
Withdraw Management.
Buyer Section
Easy to place order.
Total Shopping History.
Complete Order list.
Pending Order List.
Current Order List.
Rejected Order List.
Seller Ratings Facility.
Comments & Social Share.
Profile Management.
Revision System Enable.
Accept / Deny Delivery.
Fraud Protection Enable.
Referal Facility.
Deposit Fund.
Admin Features:
Secure Admin Dashboard
Category Management
Services Management
All Services
Hidden Services
Featured Services
Payment Gateways Setup
All Deposit Log
Withdraw Management
Withdraw Method
Withdraw Log
Pending Requests Log
Success Log
Refunded Log
Advertisement Management
Users Management
All Users
Banned Users
Verified Users
Mobile Unverified
E-mail Unverified
Interface Control
Logo+icon Setting
Slider Setting
Support Setting
Footer Text
Social Setting
Contact Setting
Comment Script
Website Control
General Setting
Email Setting
SMS Setting
Templates Features:
Fully Responsive Layout.
Built-In Color Switcher.
Multiple Color Selection.
Clean & Modern Design.
Powerfull Sass Used.
Valid HTML5 & CSS3.
Valid Bootlint Bootstrap.
Bootstrap v4
Sticky Menu When Scrolling Down.
Seo Optimized.
OWL Carousel Use.
Smooth transition effects.
Cross Browser Optimization.
Standerd custom code Created.
Well commented.
Script Comes With:
Excellent support with a fast response rate.
Fix any bugs or broken content.
Help get you setup and installed!
Secure Database that uses prepared statements so no SQL Injection!
Protects against CSRF attacks!
HTML Filter to protect against XSS attacks!
Built using the latest Strong LARAVEL Framework.
Passwords are encrypted By bcrypt encryption.
You should need GMP Extension to run it.
Demo Access:
Frontend:
http://preview.thesoftking.com/thesoftking/microlancer/
Admin Access:
http://preview.thesoftking.com/thesoftking/microlancer/admin
Admin Login: Username: admin || Password: admin
Support Facility:
Please send us your product presale query, after sales developer support request, customization project and any other queries to our dedicated support:
[email protected]
Update Logs (02-02-19)
Payment Method Updated.
Email system updated.
New Notification Added.
Security Updated.

22 Sales
First release

16th June 2018

Last update

06th April 2020

Compatible Browsers

IE6,IE7,IE8,IE9,IE10,IE11,Firefox,Safari,Opera,Chrome,Edge,

Software Version

PHP 7.x,MySQL 5.x,

Demo URL

http://preview.thesoftking.com/thesoftking/microlancer/

High Resolution

Yes

Software Framework

Laravel,

Files Included

JavaScript JS,HTML,CSS,PHP,SQL,

Tags