HYIPKING - Complete HYIP Investment System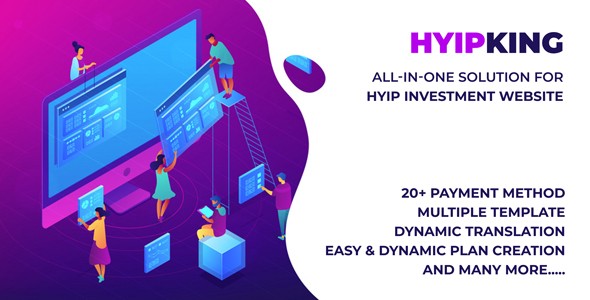 HYIP script which meets all your hyip/investment business needs. All-in-one Solution For Start your own investment program !

Our scripts are developed by our in-house Developers. We always produce secure, reliable, efficient and scalable script. We are doing continuous improvements to make it more stable in long run. We are using the latest and advanced technology Where Security is our Primary concern. We always provide our best in customer support. Our Script supports the 16+ Automated online payment processors. We offer customization at very reasonable cost.

Build With Laravel Framework
Fully Dynamic and Automated
Easy & Powerful Admin Panel
20+ Automated Payment Module
Friendly Customer Support
Demo Access:
Frontend
:
http://centric.thesoftking.com/hyipking/
(Please signup user account and check the user features)

Username: admin
Password: admin

Release Log:
V2.0 – 26 Feb 21
 - Unnecessary css js removed from frontend. sepecially vue js
 - Lots of design and responsive issue solve
 - Subscribe section added to template 3  & template 4
 - Fresh & Clean folder structure
 - Performance optimize

User Features:
➤ Unque Gorgeous Template
➤ Fully Responsive & SEO Friendly
➤ Multiple Color Support Templates
➤ Unique User Panel Templates
➤ REFERRAL LINK Facility
➤ Profile Management
➤ 24×7 Support Ticket Desk
➤ Easy to Investment
➤ All Investment Plan
➤ All Repeat Income History
➤ Withdraw Fund
➤ Withdraw Fund History
➤ Deposit / Add Fund
➤ Deposite History
➤ Total Transection Logs
Admin Features:
➤ Secure Gorgeous Dashboard
➤ Transaction Log
➤ Repeat History
➤ Automated Deposit
➤ Automatic Method
➤ Transaction Request
➤ Bank Deposit
➤ Manual Method
➤ View Manual Method
➤ Pending Request
➤ Manual Deposit History
➤ All Deposit History
➤ Manage Withdraw
➤ Add Withdraw Method
➤ View Withdraw Method
➤ Completed Withdraw
➤ Pending Withdraw
➤ Refunded Withdraw
➤ Withdraw History
➤ Investment Plan
➤ Create New Plan
➤ View All Plan
➤ Manage User
➤ All Users List
➤ Block Users List
➤ Verified Users List
➤ Phone Unverified Users
➤ Email Unverified Users
➤ Manage Compound
➤ Support Ticket
➤ All Support Ticket
➤ Pending Support Ticket
➤ Full Website Control
➤ Basic Setting
➤ Contact Setting
➤ Email Setting
➤ SMS Setting
➤ Interface Control
➤ Logo & Favicon Setting
➤ Manage Footer
➤ Manage Slider
➤ Manage Features
➤ Manage Subtitle
➤ Manage About Text
➤ Manage Service
➤ Manage Social
➤ Menu Control
➤ Breadcrumb Image Setting
➤ About Page Setting
➤ Manage Testimonial
➤ Manage FAQS
Support Facility:
Please send us your product presale query, after sales developer support request, customization project and any other queries to our dedicated support:
[email protected]
85 Sales
First release

12th January 2019

Last update

26th February 2021

Compatible Browsers

IE6,IE7,IE8,IE9,IE10,IE11,Firefox,Safari,Opera,Chrome,Edge

Files Included

JavaScript JS,HTML,CSS,PHP,SQL

Software Framework

Laravel 7

Demo URL

http://centric.thesoftking.com/hyipking/

Tags