BlueBus - Bus Ticket Booking System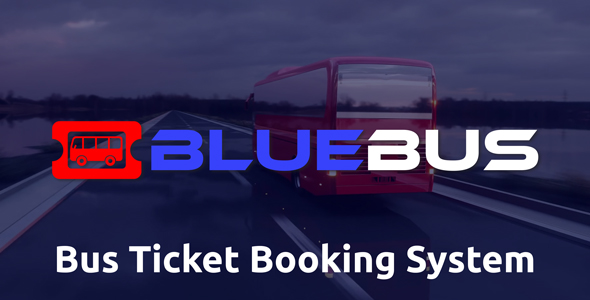 Online Bus Reservation System is designed to automate the online BUS ticket purchasing through an easy online booking system. Embed our online bus ticketing system on your website and enable your customers book tickets for various routes and destinations using. With the bus ticket reservation system you can manage reservations, clients data and passengers lists. You can also schedule routes, set seat availability, upload an interactive seat map and let customers select their seats.


User Features:
Fully Responsive Design.
Online Ticket Booking.
Check Routes & Fleet.
Blogs & Social Links.
Booking Cancel Request.
Easy Contact Menu.
Multiple Language.
Easy to signup / signin.
Trips management.
Withdraw WALLET.
Transaction logs.
profile management.
Popular Destinations.
And More.
Admin Features:
Secure Admin Dashboard
Manage Agent
Manage Enquiry
Fleet Management
Trip Management
Ticket Price
Ticket Cancel
Manage User
Manage Deposit
Manage Withdraw
All Subscribers
Manage Blog
Website Control
Interface Control
Fleet Management
ROUTE Management
EMAIL & SMS Management
Manage Social Management
Manage About Management
Manage Faqs Management
Manage Slider
Manage Why Us
Popular Tour Management
Popular Destination Management
And More.
Agent Features:
Secure Dashboard
Trip Search
Ticket Logs
Deposit System
Deposit Logs
Transaction Logs
And More….
Templates Features:
Fully Responsive Layout.
Built-In Color Switcher.
Multiple Color Selection.
Clean & Modern Design.
Powerfull Sass Used.
Valid HTML5 & CSS3.
Valid Bootlint Bootstrap.
Bootstrap v4
Sticky Menu When Scrolling Down.
Seo Optimized.
OWL Carousel Use.
Smooth transition effects.
Cross Browser Optimization.
Standerd custom code Created.
Well commented.
Script Comes With:
Excellent support with a fast response rate.
Fix any bugs or broken content.
Help get you setup and installed!
Secure Database that uses prepared statements so no SQL Injection!
Protects against CSRF attacks!
HTML Filter to protect against XSS attacks!
Built using the latest Strong LARAVEL Framework.
Passwords are encrypted By bcrypt encryption.
You should need GMP Extension to run it.
Demo Access:
Admin Access:
https://centric.thesoftking.com/bluebus/admin
Username: admin | Password: admin
Agent Access: https://centric.thesoftking.com/bluebus/agent
Username: agent | Password: agent


User Access: https://centric.thesoftking.com/bluebus/user/login
(Just register one and use)


Release Log:
V2.0 – 18 Mar 21
 - SMTP Added
 - Updated to laravel 7
 - Recaptcha added
 - Responsive issue fixed
 - Design updated
 - Google analytics
 - Error fix
 - Tawk.to Live Chat
 - 2FA Verification
 - SEO Manager
 - Powerfull Admin Panel
 - Powerfull Agent Panel

Support Facility:
Please send us your product presale query, after sales developer support request, customization project and any other queries to our dedicated support:
[email protected]
79 Sales
First release

21st March 2019

Last update

18th March 2021

Compatible Browsers

IE6,IE7,IE8,IE9,IE10,IE11,Firefox,Safari,Opera,Chrome,Edge,

Software Version

PHP 7.x,MySQL 5.x,

Demo URL

https://centric.thesoftking.com/bluebus/

High Resolution

Yes

Software Framework

Laravel,

Files Included

JavaScript JS,HTML,CSS,PHP,SQL,

Tags